Myopia Management for Children & Ortho-K
Dear Doctor Oh,
Thank you for fixing my vision. Since I was in first grade, I had to wear glasses to see things. I hated it when I had to swim or play sports. Either I couldn't see clearly or my glasses got in the way.
Now, I can see everything when I'm playing sports. I also don't need to deal with fogged up glasses when I eat my favorite hot dishes. Thank you again for making my life easier.
Sincerely, Aaron Tsai
Dear Dr. Oh,
Thank you so much for the magic lenses you have given me, and helped me get rid of my glasses that I didn't like. With my glasses on I always felt that something was sitting on my nose. When I first went to school with my glasses, my friends couldn't recognize me; they said I look weird. Sometimes in the morning, I couldn't find my glasses and I had to look for it without my glasses on which made it very difficult to find. Because of this I was also sometimes getting late for school. I wish that I could see clearly without my glasses. With the help of the magic lenses, my wish came true! Now I don't have to bother about my glasses falling off and breaking, and I feel so happy. My mom says that she can once again see my face clearly no longer hidden behind glasses. Thank you, Dr. Oh.
Sincerely, Preyasi
Dear Dr. Oh,
Thank you for the contacts. I really like them better than glasses. I really prefer putting on contacts at night and taking them out in the day instead of putting glass in metal in front of my eyes. I am much happier too, because they encourage me to do anything. I also don't have the pain after getting my glasses at home. Now I can play certain sports without worrying about my glasses. I don't have to squint just to see what my teacher is writing.
Love, Alex Salos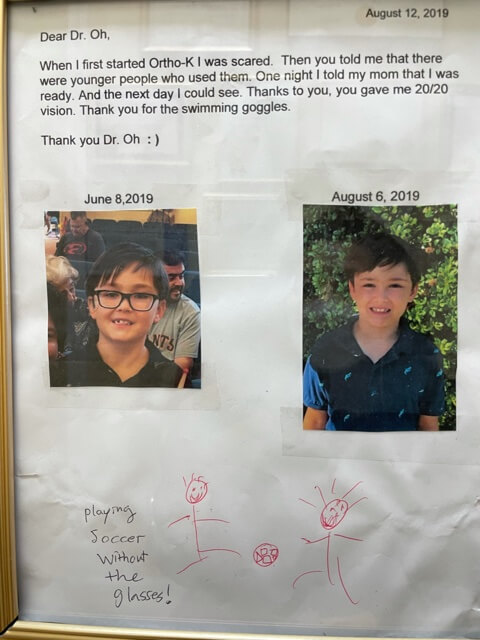 Dear Dr. Oh,
When I first started ortho-k I was scared. Then you told me that there were younger people who use them. One night I told my mom that I was ready. And the next day I could see. Thanks to you, you gave me 20/20 vision. Thank you for the swimming goggles.
Thank you Dr. Oh 🙂
It was my first time visiting an eye clinic here. The staff were so friendly, patient and polite. The doctor was very nice and answered all my questions. I also had to choose my frame and the staff were helping me out. It took me an hour of going back and forth. They were so patient and explaining the pros and cons. I loved my visit there. The visit definitely made my day.
- Niranjani S.
Super quick and efficient. The doctor and staff were all really nice and quick in conducting a simple eye check up. The process is easier if you book an appointment. The doctor did a good job of explaining the test results for the eye check up.
- Tanvi G.
Staff are very friendly … and the Doctor is very kind and explains everything that she is doing.
- Michelle R.
It a really nice place. They have a retinal scanner so theres no need for you to get your eyes dilated when the check your retinas. Plus the staff is pretty friendly and they accept lots of different types of insurance
- Jasmine M.
The staff was very nice. They helped me wear contacts with great patience.
- Hongyuan G.
Well maintained. the staff and the doctor have lot of patience.
- arun r.
Went here for the first time for my routine eye checkup. Everyone was courteous and helpful. The doctor explained everything and was very knowledgeable. They had good collection of glasses. I'll definitely come here for my next checkup.
- Rohan V.
Eye Boutique knowledgeable and friendly staff sincere and willing to help in all aspects of of my eye appointment and very friendly environment my doctor doctor show was very knowledgeable explain every phase of the of the of the eye exam and I would definitely recommend Eye Boutique to my friends and I will definitely keep coming to eye Boutique and bring all my family.
-
Raul M. - Solution Reach
I personally love Eye Boutique Optometry! The staff is very polite and accommodating. They work quickly, efficiently, and carefully. The place is clean and comfortable as well. Definitely would recommend!
-
Sandalina S. - Solution Reach
Very friendly and efficient staff. Dr. Oh is so well educated and extremely friendly! They've got a clean office and a wide variety of frames to choose from!
-
Leslie S. - Solution Reach
They are so nice and really care about how I feel! Frames are beautiful too. Highly recommend!!
-
Yueqi W. - Google Review